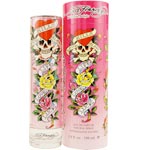 Ed Hardy perfume by Christian Audigier for women is a vintage-inspired eau de parfum natural spray that was introduced in 2008. Inspired by the designer's classic tattoos, the fragrance packaging is a riot of hot pink strewn with ribbons that read "Love Kills Slowly," entwined with a heart, skull and colorful flowers. It was immediately snatched up by my 17-year-old daughter.

When I opened the box, I was pleased to see that the funky vintage look carried over into the design of the bottle. Fans of Ed Hardy's bulldog t-shirts will be thrilled to see a raised bulldog logo adorning the top of the perfume bottle, along with the initials D.E.H. for his full name (Don Ed Hardy).

The perfume itself has a definite fruity scent to it. It's young, fresh, sweet and extremely appealing. The most noticeable fragrance notes for me are apple, mango, strawberry, red grapefruit, freesia, amber, musk, and vanilla. I'd defintely say it reminds me a bit of cotton candy.

Ed Hardy is a very light scent that doesn't have the best sillage. In fact, I really only noticed it for about six hours. A few extra spritzes when applying should give this fragrance the staying power you need to take it through the day. Using the perfume with the body lotion would give it a lasting strength as well.

Ed Hardy is a very young fragrance (hence my daughter's enthusiasm for it) and probably most suited to teens and young adults. However, its rock edginess - from the amber and musk - may widen its audience. Ed Hardy by Christian Audigier is perfect for casual occasions and a definite spring/summer fragrance.

My daughter gets tons of compliments on this fragrance when she wears it and everyone wants to know what it is. If you have a teen who is into the Ed Hardy brand, definitely have her check out this fragrance. It's the perfect fit!