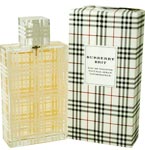 Years ago, I stumbled on a gorgeous mini skirt in a classic tartan pattern and I was instantly hooked on the style. After much researching, I discovered that the gorgeous skirt was from Burberry. Burberry, the British luxury fashion house known for fashion, introduced its first fragrance - Burberry for Men - in 1981. Today, Burberry offers a complete line of fragrances, including the wildly popular Burberry Brit perfume for women.

First offered in 2003, Burberry Brit is classic Burberry, down to the box, which is covered with the tartan pattern that defines the brand. The square bottle is also graced with Burberry's tartan plaid. The feel of the package and the bottle is very preppy and stylish.

This is a very light, fresh scent that, to me, is perfect for cooler autumn time wear. It has sharp top notes of crisp green almond, icy pear and Italian lime. Heart notes include sugared almonds and lush white peony. At first I really notice a baby powder aroma tinged by the slight sweetness of pear.

After wearing it for a while, I notice that the vanilla and amber begin to evolve. The vanilla is a very soft scent; not that overly sickly sweet vanilla scent that you find in your standard bubble gum perfumes for the younger crowd. This is a scent with depth to it. I don't notice the lime at all but the scent I do experience is phenomenal. The combination is a sort of understated sexy that's very captivating.

Burberry Brit has fairly good staying power and easily lasted about four hours on me. I did need to reapply during the day to really get the sillage I like from a fragrance, but it was so worth it from the compliments I received. It's just one of those scents you want to enjoy over and over again. Definitely has the makings for a signature scent.