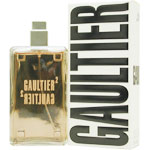 It would seem everything that fashion meistro Jean Paul Gaultier touches turns to gold! Following the colossal success of his global fragrance triumphs Le Male and Classique, Jean Paul Gaultier decided to release his first unisex scent; Gaultier 2 (to the power of two) in 2005.

This radiant eau de parfum brings couples together and is meant to be shared between the sexes - its magnetised bottles illustrate this perfectly as they snap together with very a satisfying "click."

Gaultier 2 explores just three main facets: amber, vanilla and musk. Amber is the star attraction here… it melds onto the skin like thick honey and warms up wonderfully. The accompanying vanilla radiates this warmth and creates titanic sillage - perfuming the air around you with a creamy, amber glow. The underlying musk is not overly animalic, but is ever-present to suggest something distinctly organic… like two bodies pressed together, and the fiery friction between them!

Gaultier 2 has a linear composition (unlike the fragrance "pyramids" we are accustomed to); however, the three individual accords of amber, vanilla and musk each take center stage intermittently from time to time. It offers well above-average persistence on the skin, and is a scent to be savored by both men and women alike.