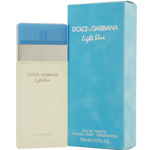 Dolce & Gabbana is an Italian luxury fashion house opened in 1985 by designers Domenico Dolce and Stefano Gabbana. Dolce & Gabbana now has extensive offerings including clothes, shoes, handbags, cosmetics and, of course, D&G fragrances, including one of its most popular, D&G Light Blue.

Dolce & Gabbana's Light Blue fragrance was created in 2001 and is available for both men (pour homme) and women. The Light Blue fragrance range for women includes bath and body products as well as an eau de toilette.

Top notes of this fragrance include Sicilian cedar, crisp apple and bluebell. Heart notes are green bamboo, jasmine and a delicate white rose. Base notes are citron wood, amber and soft musk. Somehow the overall aroma of Light Blue perfume reminds me of a light floral, fruity, baby powder scent. It's very subtle but so sexy and feminine at the same time.

The light floral notes definitely make this a summer scent. It's bright and crisp and very light. Because it's such a light fragrance, it's ideal to wear with other products in the same line, like the body lotion or deodorant. Light Blue is not at all overpowering which makes it great for layering.

To get the most out of this scent all day, I found myself reapplying it several times to pulse points and my chest. Light Blue does not last long for me, which is a disappointment. The lightness of the scent really makes it most appropriate for daytime wear although if you layer it with several other products in this line, it may work for casual evening wear as well.

I'd love to see this scent in an eau de parfum for a little bit more strength. Light Blue is definitely one of my favorite summer daytime scents. I just make sure to remember to carry some with me when I go out so that I can reapply during the day.

I couldn't believe how many people asked me what perfume I was wearing. Great summer fragrance choice!