All hail one of the Grande Dames of perfume! Rochas Femme was first created by perfume miestro Edmond Roudnitska in Paris during the second world war, and is still much loved and admired to this day.
But, she's no shrinking violet! Only a perfume that is robust, bold and commanding can withstand the passage of time, and so few do so with as much spunk and sassiness as Femme.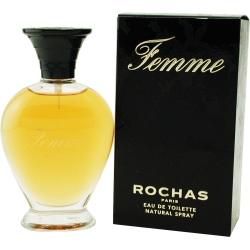 This perfume is based around central accords of dark plum and dewy peach - each stimulate our "feel good" food-loving senses, but before things turn too tutti-fruiti, Femme slaps you across the face with a sexy leather glove - a stinging bitterness and warmth that grows and spreads laterally across this perfume. It has a spicy, resinous heart of clove, cinnamon and benzoin which lends complexity and depth. As with most chypres, this perfume has a glorious mossy base, and rich, sexy musks make it every bit a scent for a modern-day femme fatale.
Truly a perfume to be experienced. The vampish Rochas Femme commands your attention and respect.
Can you handle her?