After 40 years of perfume-making to modest international acclaim, US perfume house Jacomo enjoyed somewhat of a renaissance in 2010 with the launch of their colourful Art Collection series: a trio of perfumes launched to explore an olfactory dialogue between perfume and art.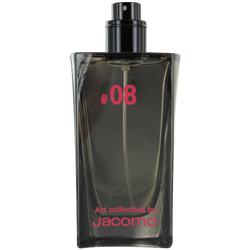 #08 is a deeply aromatic eau de parfum that draws its inspiration from the vibrant and colourful cities of Bengal and Madras. It surprises with its Asian-influenced opening of crisp ginger and black tea, through which a startling and enduring spicy cardamom accord emerges. It instantly speaks of the cuisine of northern India, and resolutely plays a preeminent role for the first 10 - 15 minutes. A milky accord in the heart of the perfume, coupled with warm notes of sweet cinnamon both furnish the perfume with a delicious 'iced chai latte' vibe. But there is abundant colour present too... luminous freesia, golden honey, and dewy fruit pulp all lend a vibrant lip-smacking quality to the scent.
Art Collection #08 is spirited, colourful, fun, and something in which both men and women can partake.