Spanish designer Jesus Del Pozo has a vast history in fashion and fragrance and is revered for his creations that reflect personality and style. In 2010, the good folk at Del Pozo decided it was time to launch their take on vegetal amber - a theme that has been visited many times in perfume since recorded history began.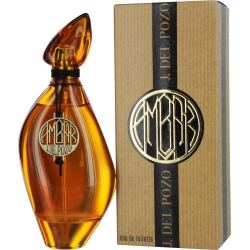 Vegetal amber is the fossilised sap from prehistoric trees… stone-like nuggets of a honey coloured hue that are admired for their primordial beauty. This perfume is presented in a stunning flacon which gives the impression of a tumbled piece of this semi-precious gem. The perfume itself is a wonderfully diaphanous blend of crisp tangerine and bergamot, which dances over a blushing floral heart of peony and iris. A huff of cardamom and tea furnish the perfume with a light piquancy, and this spreads over a pale cedar/amber base.
Ambar is not a traditional amber perfume, which often tend to be thick, honey-like and sweet; rather, it is an upbeat, modern interpretation on the amber theme, and one that is perfect for the warmer weather.