I've always been a fan of lean silhouettes cut close to the body... a hallmark of Italian fashion powerhouse CoSTUME NATIONAL. In 2002, Costume National launched a trio of fragrances that were designed to fit the body as competently as the clothing line. The flagship fragrance aptly named "Scent" was flanked by a lighter 'sheer' version, and the incredible Scent Intense - a compelling, concentrated eau de parfum.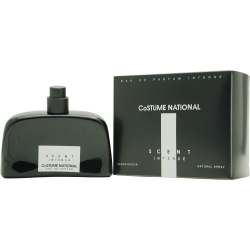 Wearing Intense is like wearing a theatrical mask - its initial impact is unanticipated and ambiguous, but beneath lies something familiar and inviting. Jasmine tea, hibiscus and amber play key roles in its composition, all of which cartwheel across fragrant woody accents. Sensuous, exotic, mystical, intense.
For a designer release, it does not conform to the "mainstream" norm; rather, it is as bold, as edgy, and as striking as the fashion itself. Dark, refined, enchanting. Despite it originally being created for women, Scent Intense is also well-loved by men as a daring and avant garde creation.
This intense perfume has very generous projection, and longevity. A fragrance for those with men and women who like their fashion edgy and daring… the same way they like their scent.