Ever since Dior's Eau Sauvage stepped onto the world's stage in 1966, it has blossomed into arguably one of the house's most-loved and classic masculines. In the decades following it's release, it has spawned a number of flanking fragrances, but 2012 saw the addition of an exciting pure parfum added to the Eau Sauvage range.
Parfum-strength colognes for men are few and far between, and this is one offering that does not disappoint.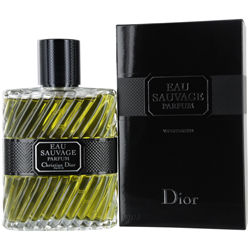 The opening of Eau Sauvage parfum tips it's hat to tradition and suggests a commonality with the original eau de cologne and eau de toilette - bitter lemon and aromatic herbs dominate. Moments later, however, is where the new and the old diverge in style… Eau Sauvage Parfum skyrockets into the stratosphere with a rich, enveloping blend of dark green vetiver and resinous myrrh. The juice itself is an attractive forest green, and it wears on skin much like a thick woody, green blanket might, when pulled around your body.
Eau Sauvage Parfum takes the original scent on a slightly different trajectory some 45 years after its original launch. Its higher concentration of perfume oils ensures you won't need to reapply throughout the day. Resolutely masculine. Infinitely satisfying.