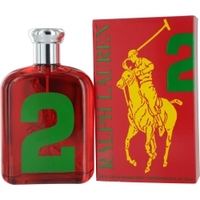 Number two in Ralph Lauren's striking new Big Pony quartet, this scent turns up the heat with a stylish fire-red flacon and a smouldering juice to boot!

Touted as the more "sensual" fragrance in this lineup, Big Pony #2 is an unconventional play on rich chocolate, fragrant lavender and seductive musks.
Picture it: you've spent a hot day on the beach, at the office or in the gym, and now you've come home to shower and dress … Big Pony #2 is your ideal olfactory "wingman" as you head off for a night out with the lay-deez!

Let's face it … how many women do you know who don't adore chocolate?

White hot musk and aromatic lavender seep into a delicious dark chocolate heart. This gourmand lusciousness smoulders on the skin, and is the perfect precursor to an unforgettable night out. With generous application, it will reactivate as your body warms, making it perfect for the dance floor or romantic romps between the sheets.

Big Pony #2 feels "dressy" yet still manages to maintain its youthfulness … it will appeal to young men looking to live the Ralph Lauren lifestyle, beneath the neon lights of night.