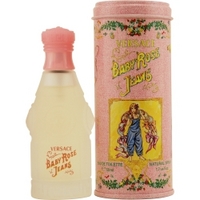 Launched in 1995, Baby Rose Jeans by Gianni Versace is a light, floral scent. The top notes include bergamot, lemon, peach, and green notes. Middle notes are carnation, ylang-ylang, orchid, orris. Sandalwood, cedar, vanilla, and vetiver are the bottom notes.
For me, the notes combine to a very soft floral scent with a touch of baby powder. With the name baby in the title, some might assume that this scent is made for children or teenagers; however, I think that if you love floral fragrances that are delicate with a touch of innocence, Baby Rose Jeans is a scent you need to try.

Baby Rose Jeans by Versace is everything the words pink and innocent evoke. The perfume bottle is housed in a pink denim-esque tin with a feminine, vintage script and flowers surrounding a barefoot, young girl wearing blue denim overalls with pink ribbons in her hair. The perfume bottle is signature Versace Jeans with a pale pink top. Again, all things cute and feminine.

Because Baby Rose Jeans is such a light floral scent, I would recommend it for daytime use. It doesn't have the heavier, musky scent an evening perfume would need to have for me. The sillage is practically non-existent in this fragrance. Don't expect others to notice and comment on this scent unless they are up close and personal.
From a few feet away, there is very little scent to notice. This would be a good choice for office wear when you don't want your scent to be all that noticeable to others or when you're in close proximity to someone that you want to notice your scent.

I did find myself reapplying Baby Rose Jeans to my pulse points every couple hours. I really stopped noticing that I had it on after about two hours. It's ideal for an intimate encounter where you want to feel soft, feminine and pampered. It lasts just long enough to be memorable.