For fans of feminine, flirtatious florals, look no further than Carolina Herrera's Chic... a scent launched in 2002 that has captured the hearts of many a woman (and many a man!) with it's spritely, passionate charm.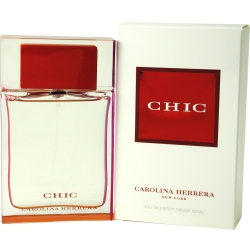 Chic – just as the name suggests – is a well-edited perfume that has never lost it's timeless beauty. Packaged in a stunning glass flacon with accent red edges, Chic represents ageless elegance with a vibrant twist. It opens with a flourish of Bulgarian rose and blushing red freesias... these tippy-toe over a lip-smacking citrus heart of mandarin and orange which contribute to the bright, sunny nature of this scent. A voluptuous base of vanilla and white musk draw people in for closer consideration.
Carolina Herrera has managed to produce an enduring, pretty floral which will appeal to women of all ages. It has modest projection, but lets face it... sometimes a little modesty can be a colossal attractant.
Contemporary. Trim. Chic.