Luxury jewelers hoteliers, and perfume purveyors BVLGARI launched this intense fragrance as a flanker to their highly successful Green tea scent in 2000.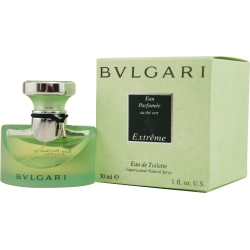 Perfume miestro Jean Claude Ellena is the nose behind the Extrême release, which is distinctly more intense than the original eau de cologne. An eau de toilette for men and women, this release again focuses on green tea, but also light florals and zesty Italian bergamot. White pepper serves as the humming heart over which these radiant green floral accords shimmer. It brims with fresh green vitality. There is also a nectar-like warmth at its heart - like a thin ribbon of golden honey which evokes the sensation of being in perpetual sunshine. I am impressed with its longevity, and as a refreshing summer tonic, Extrême artfully awakens and stimulates the senses.
A perfume which is genderless, it can be enjoyed by both men and women, and works incredibly well in (but is not limited to) the warmer months.