For decades now, a debate has raged between the factions as to whether or not it is appropriate to perfume your toddler... but whilst opinions are divided here in the West, the perfuming of children has been commonplace in the East for thousands of years! In the mid-late 20th century, talcum powder was used to scent a child's skin, but nowadays there are many eaux that have been designed specifically with a child's needs in mind. Bvlgari's Petits et Mamans is arguably one of the best.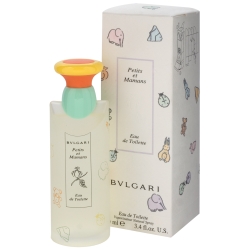 As the name suggests Petits et Mamans (Little Ones and Mothers) is a fragrance designed to be shared between a mother and child... a lightly scented toilet water that serves to illustrate the bond between the pair. What one recognizes immediately when applying this perfume to skin, is that it has a soft, velvety texture... one that calls to mind napped cotton baby blankets and plush soft toys. Calming notes of tea, chamomile and mandarin lend a semi-transparent quality, whilst a huff of soft iris, rose and peach; a certain olfactory tenderness. Petits et Mamans is powdery and feels at times, almost lactic... it's the hushed, comforting scent of warm milk and clean, delicate skin.
This perfume comes in an alcohol-free splash for infants, and a spray for children 1 year and over.