French perfume house Annick Goutal stands head and shoulders above many Parisian brands that have emerged in the latter part of the 20th century. There is a deep fondness and affection for Goutal's scents, and with good reason! The woman who lent her name to the brand has sadly passed, but her legacy is continued by her daughter Camille, and renowned nose Isabelle Doyen.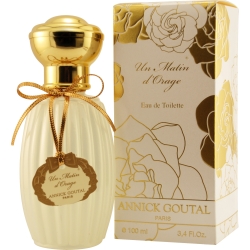 Presented in a dreamy ribbed flacon of pearl-white glass, Un Matin d'Orage (One Morning of the Storm) is a scent that came to market in 2009. This fragrance is a perfumed rendering of a Japanese flower garden... it features the essence of gardenia flower after a morning storm – when it's perfume is purest. This milk-white floral accord is married to tender notes of jasmine, magnolia and champaca... the result is a delicately refined bouquet of blooms that are both sensual and hypnotizing. There is a creamy, mist-like veil that rests beneath the composition … a foundation of fragrant sandalwood.
Un Matin d'Orage is just one perfumed poem from the pen of Annick Goutal. It is a mature scent that begs to be explored and appreciated. When applied generously, it leaves a delicate perfumed wake where you've walked.