Want to be let in to one of our best kept secrets? Angel Schlesser perfume by Spanish designer Angel Schlesser is a knockout! The author of this scent is none other than in-house Guerlain nose / perfumer Thierry Wasser!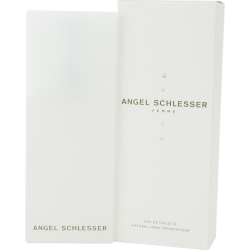 Schlesser's fashion oeuvre celebrates minimalism, which is perhaps best represented with the presentation of this, his first feminine perfume launched in a pristine rectangle of matte white glass. But what it holds is far from uniform and straightforward. Angel Schlesser Femme is a sparkling aldehydic floral that shimmers with rousing bergamot, mandarin and orange blossom... these facets twinkle over radiant jasmine and a deeper aromatic heart of cypress, black currant and cardamom. Red and green pepper lends a huff of zippy warmth which one can detect in the background, and the entire composition is underpinned by cedar, and musk. For a scent with some complexity, there is very little evolution from first spritz to the final whisper on skin – and I suspect that is where Schlesser's signature of purity and minimalism reveals itself.
This scent has definite presence and works incredibly well during (but is not limited to) the warmer months. It has a clean, sharp radiance which never fails to amaze.